In our previous example, in Creating your first chart page, we had created an angular gauge. Now, to explain the process of changing the chart type using the same data, we will first create a cylinder gauge and then convert it to a thermometer gauge.
Please note that you can change the chart type without having to change the data, only if the new chart type is compatible with the original data. If the chart data is not compatible with the new chart type, you'll get a "No data to display" message on the chart.
For example, you will not be able to change an angular gauge to a cylinder gauge, as the type of chart data is different. However, since the data type for cylinder gauge and thermometer gauge is same you can always change a cylinder gauge to a thermometer gauge or vice-versa, retaining the same data.
In this example, the cylinder gauge represents the amount of petrol left in a fuel tanker, which has the capacity to hold 6500 liters of petrol. The tanker presently contains 3811 liters of petrol. The completed gauge looks as shown below: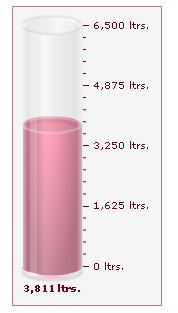 You can create an XML file as Data.xml and an HTML file as fuel_tanker.html. Save both the files in the MyFirstChart folder. Furthermore, copy Cylinder.swf from the Download Pack > Charts folder to the Charts folder in the MyFirstChart folder.