You can access data from the chart in CSV format. For this you need to call the API function - getDataAsCSV() » This legacy function can be called either on FusionCharts HTML Object or FusionCharts JavaScript Object.
Let us see a small sample which gets CSV data from a Pyramid chart and displays it in a JavaScript alert box as shown in the image below: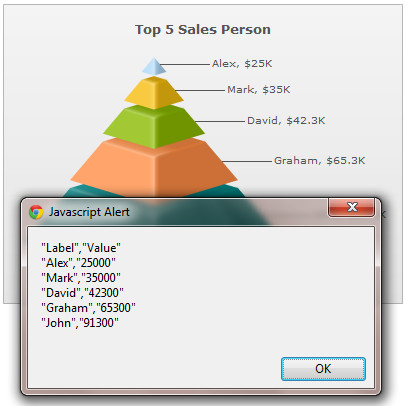 <html>
  <head> 	
    <title>Getting CSV data from chart</title> 	
    <script type="text/javascript" src="Charts/FusionCharts.js">
    </script>
  </head>   
  <body>     
    <div id="chartContainer">Chart will load here!</div>          
    <script type="text/javascript"><!-- 	

      var myChart = new FusionCharts( "Charts/Pyramid.swf", "myChartId", "400", "300", "0", "0" );
      myChart.setXMLData("<chart caption='Top 5 Sales Person' numberPrefix='$'  isSliced='1'><set label='Alex' value='25000' /><set label='Mark' value='35000' /><set label='David' value='42300' /><set label='Graham' value='65300' /><set label='John' value='91300' /></chart>");
      myChart.render("chartContainer");
      
    // -->     
    </script> 	   
    <input onclick = "alert(FusionCharts('myChartId').getDataAsCSV())" type="button" value="Get CSV Data from chart">
  </body> 
</html>
In the above code, we first create a Pyramid chart with DOM Id as myChartId. We provide the following data to the chart and ask it to render:
<chart caption='Top 5 Sales Person' numberPrefix='$' isSliced='1'> 
     <set label='Alex' value='25000'  /> 
     <set label='Mark' value='35000' /> 
     <set label='David' value='42300' /> 
     <set label='Graham' value='65300' /> 
     <set label='John' value='91300' />
  </chart>
Thereafter, we're creating a button, which when clicked, exports CSV data from the chart and shows in an alert box. We get the FusionCharts JavaScript Object reference of the chart by FusionCharts('myChartId').
onclick = "alert(FusionCharts('myChartId').getDataAsCSV())"
See it live!
Note that the CSV data provides only the data of the chart's dataplot devoid of all properties and trendline definitions.
Click here to see other implementations of the same function on various object references »

myChart.getDataAsCSV();
...
FusionCharts.getObjectReference("myChartId").getDataAsCSV();
...
FusionCharts.items["myChartId"].getDataAsCSV();
You can customize the output format of CSV data by setting various chart attributes in XML or JSON data. You can set the value separator, value qualifier and whether to show formatted data values. Read Exporting Chart Data > Using JavaScript API to know more on the attributes that configure CSV output format.