Once the exportEnabled attribute is set, a "Download" button will be displayed on the top-right corner of your chart. This button, when clicked, will provide you a list of various export file formats thereby enabling you to download an image or PDF version of the chart.
The following image shows how the list will appear when the above data is used in a column 2D chart.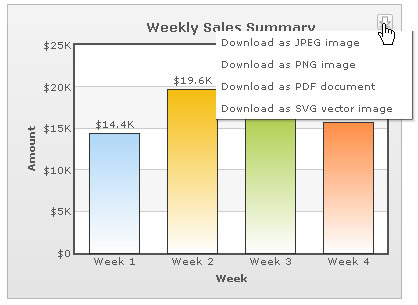 See it live!
During export of the pure JavaScript charts, the chart data is sent to external servers for processing and converting to image. User must have an active internet connection for this feature to work. In case you want to process the exported data on your own server, you may setup the chart to send the data to your own server. The details of how to do the same has been explained later on this page.
There is a possibility that the exported image/PDF appears slightly visually different with respect to colors and effects from your original chart that is being exported.
FusionCharts XT Flash charts do not have a button to export the chart. Instead, upon right-clicking the Flash charts, users can select exporting options using a context-menu.